Home » BettaPedia
Wild Betta Smaragdina "Green Fighter"
BETTA SMARAGDINA is one of species in the Betta family, based on some betta reference, this species came from the northeast of Thailand. The general characteristics of the fish are crystal-like shiny green scales and gill covers. The trunk of the fish is round when viewed from the side and slim when viewed from above.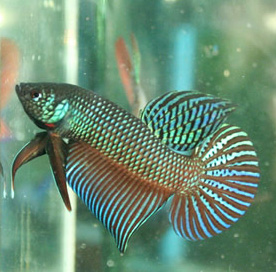 The pelvic fin is long and tapered, and the caudal and anal fins are slightly orange in color. The dorsal fin is a green color. BettySpendens.com noted that The local Thai people call the BETTA SMARAGDINA "green fighter" or "Plakat Keaw" or "Pla Keaw" for short. The average size is about 1.5 – 2 inches in length, they are shy in nature and easily frightened by any stranger that approaches them.
Betta smaragdina is the native fighting fish of the Isan people. The Isan area of Thailand covers over one third of the entire country, and consists mainly of highland plateaus. This geographical characteristic is very isolating and helps to preserve Betta smaragdina, as well as keeping the species from mixing with other bloodlines.
Talk about BETTA SMARAGDINA'S HABITAT, this species like the Betta splendens, can be found widely, living in the shallow rice paddies, ditches, and the lowland spaces beside the rice fields. This buffer area is a free space that the farmer uses for releasing the fish and also for irrigation to and from his rice field.
Naturally this area is flooded throughout most of the year, except maybe in the dry season when it may remain only wet mud. The farmer does not actually use this area for growing rice so fortunately it is untouched by chemical sprays. This small area is very complex, complete and ideal for BETTA SMARAGDINA "green fighter" growing.
Tags: betta smaragdina, wild betta